Share this URL: https://womensustainability.peatix.com/
Women in Sustainability
What role do women play in sustainability? How are women represented, and what barriers do they face in disruptive industries and challenging environments? What is the link between industry and socio-environmental sustainability issues? What challenges do women entrepreneurs face and what are the implications on their livelihoods?

These are just some of the questions we will be addressing at the Women Sustainability Forum Japan, an interdisciplinary platform for discussion on case studies, impact research and entrepreneurial endeavours concerning women, sustainability, leadership and the UN Sustainable Development Goals (SDGs).

SPEAKERS
- Leticia Dos Muchangos, UNU-IAS
- Claudia Arana Novoa, Bunka Fashion Graduate University
- Takako Ohyama, 530 Week
Moderator: Isabel B. Franco, UNU-IAS

PROGRAM
18:30: Doors Open
19:00: Presentations, Discussions
20:30: Networking & Clothes Swap
21:30: Finish

Part 1: Presentations & Discussions

The first part of the event is designed to be an interdisciplinary forum covering some of the following topics:
- Women, Agenda 2030 and the Sustainable Development Goals
- Women, Sustainability and Waste Management
- Women and Social Entrepreneurship
- Women, Sustainable Fashion and a Circular Economy
The panel will close with a short workshop following the world café methodology aimed to collect perceptions about the challenges and opportunities facing women in sustainability, particularly in the context of Japan.

Part 2: Networking & Clothes Swap

The second part of the forum aims to showcase best practices targeting SDG 12 Sustainable Consumption and Production. Through a clothing swap/networking session, participants will exchange their valued but no longer used clothing for clothing they will use. This second and final part of the event will be supported by leading experts in sustainable fashion design and practitioners from Bunka Fashion College, Japan.

**TAKE PART IN THE CLOTHES SWAP!**
Have clothes that are perfectly good but haven't worn in a while? Attendees are encouraged to bring their valued but no longer used clothing, and will be given the chance to swap during the latter half of the event during a Clothes Swap!

VENUE
IDEO Tokyo (link)
3-5-29 Kita Aoyama, Minato-ku, Tokyo 107-0061

TICKETS
General Admission: 2500 JPY (incl. networking drinks)*
Student Admission: 1500 JPY (Student ID required at check-in)
*Tickets will NOT be available on the door. Please purchase your tickets in advance. Space is limited and will be allocated on a first-come, first-served basis.

TARGET AUDIENCE - Practitioners, entrepreneurs, students, researchers and enthusiasts of sustainability

FACEBOOK EVENT PAGE - https://www.facebook.com/events/666064920578183/

LANGUAGE - English (No interpretation) 英語(通訳なし)

ORGANISED BY: 一般社団法人Social Innovation Japan & eWisely
SUPPORTED BY: IDEO Tokyo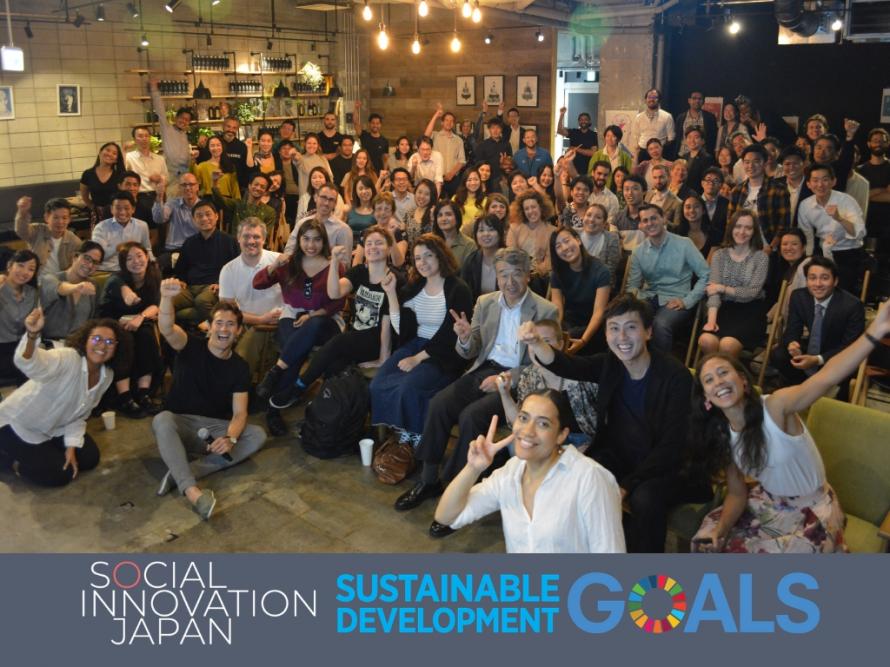 About Social Innovation Japan
Social Innovation Japan is a community of problem-solvers, thinkers, and doers. We provide a platform for people to engage with and learn from industry leaders who are tackling social and environmental issues, and connect with like-minded people from different backgrounds. We aim to build Japan's largest and most diverse platform of change makers, connecting people with opportunities and resources to tackle real-world problems.

About eWisely
In collaboration with partners and investors, eWisely.org engages in Forums (in-situ and online) aimed to discuss issues concerning women, sustainability, leadership and the Sustainable Development Goals (SDGs). Exceptional Women in Sustainability (eWisely) is the fastest-growing, global connector of exceptional women in sustainability practice, policy and science with +8,000 leaders and followers in over 60+ locations around the world. Forums can take the form of workshops, seminars and group discussions. Past forums have taken place in Latin America and Africa.

Disclaimer: Please note that we will be taking photos at this event and we reserve the right to use these in our promotional materials. If you would prefer not to appear in photos/videos, please inform a Social Innovation Japan team member on the day. Social Innovation Japan, the organising team, volunteers and sponsors are not liable for any injuries, deaths, accidents, loss of property or damages incurred during any of our events.
read more
Updates
The event description was updated. Diff#459676

2019-08-04 09:03:42
More updates
Tue

Aug 20, 2019
7:00 PM
-
9:30 PM
JST
Add to Calendar
Venue
Tickets

General Admission (incl. light networking drinks)

SOLD OUT

¥2,500

Student (incl. light networking drinks)

SOLD OUT

¥1,500
Venue Address

理想表参道ビル, 3 Chome-5−29 Kitaaoyama, Minato City

Japan
Organizer